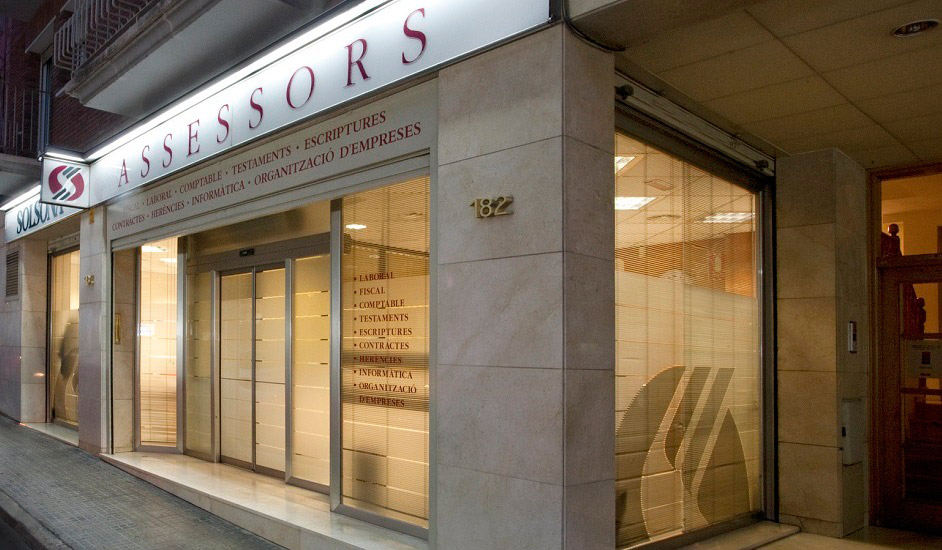 SOLSONA ASSESSORS, SLP is one of the longest running consultancy firms in the city of Terrassa (originally located on Gutemberg Street). The multidisciplinary company as we know it today emerged after the important legal reforms of the 1970s, through the work of the two founding partners, Josep Solsona Peñarroya (Chartered Accountant) and Enric López Modrego (Lawyer and Economist), then two young entrepreneurs full of dreams and a drive to exceed expectations.
In 1995 we moved our offices to their current location, 500m2 in size, located on Arquímedes Street, no. 182-184, bajos, Terrassa, due to a significant growth in staff numbers. Today, our team is made up of more than 30 professionals, as well as a large group of collaborators and external professionals.
SOLSONA ASSESSORS, SLP has evolved significantly over the years, but it has always maintained the same vision, spirit of overcoming obstacles, philosophy of effort, work and our main objective, which is to offer our clients a high quality service at a reasonable price.
We are absolutely certain that our best assets are our more than 70 years of experience in the sector and our team that day after day offer a professional, personalized service, with the utmost confidentiality, applying the most optimal legal regulations at all times.
Finally, it is worth noting that the Autonomous Administration certified SOLSONA ASSESSORS, SLP as an "Accredited Entity for Independent Service in the Generalitat de Catalunya" for more than 20 years, during which time we helped many entrepreneurs to start their own businesses.